NUEVO PARA DEWALT DCB609-2 MAX Flex VOLT 12 Ah Batería de iones de litio 20V DCB606-2
Marca: For DeWALT
Código de Producto: E_363536957872
NEW FOR DEWALT DCB609-2 MAX Flex VOLT 12 Ah Lithium-ion 20V BATTERY DCB606-2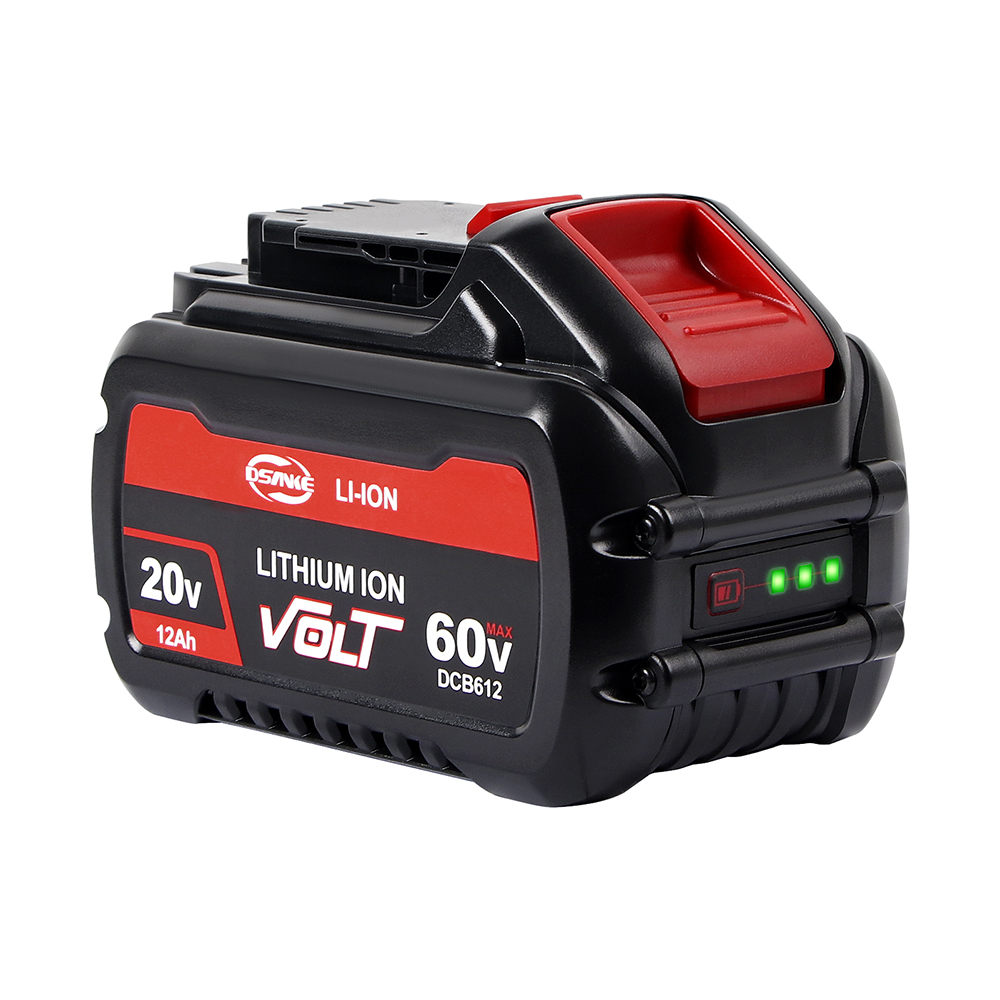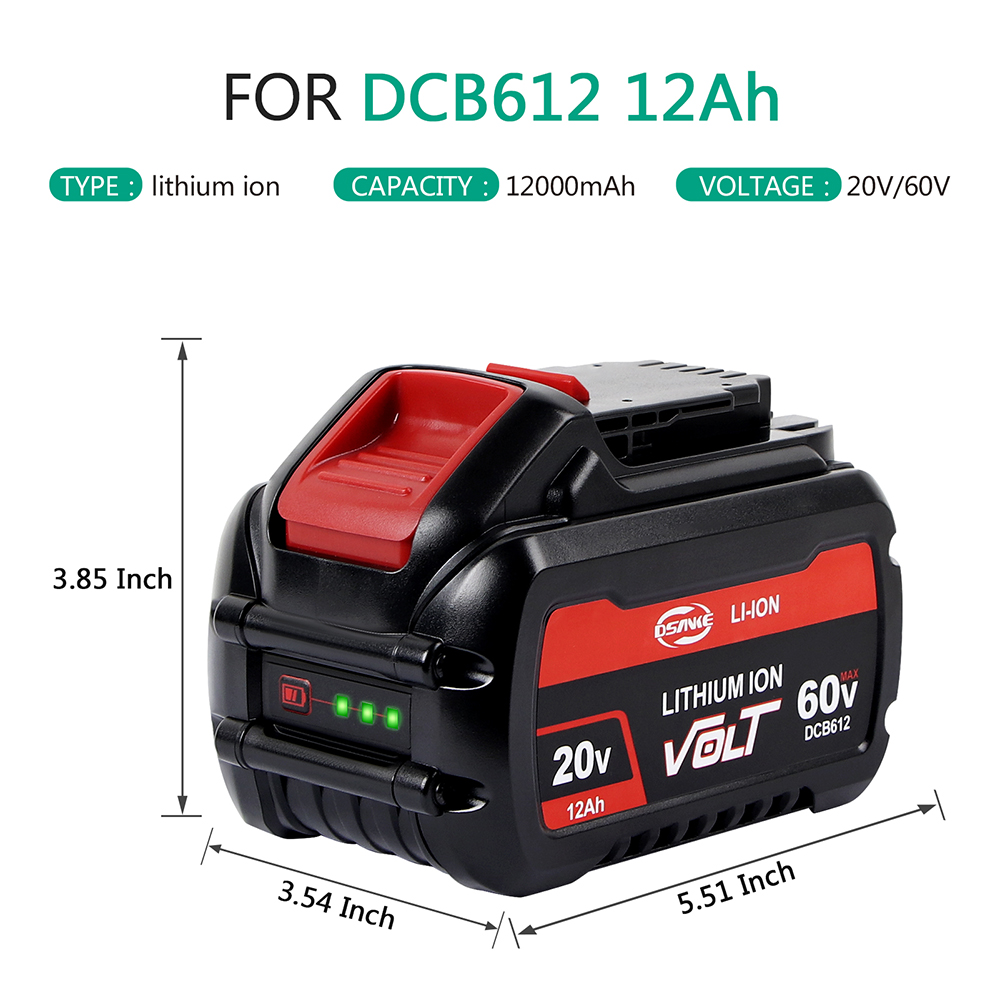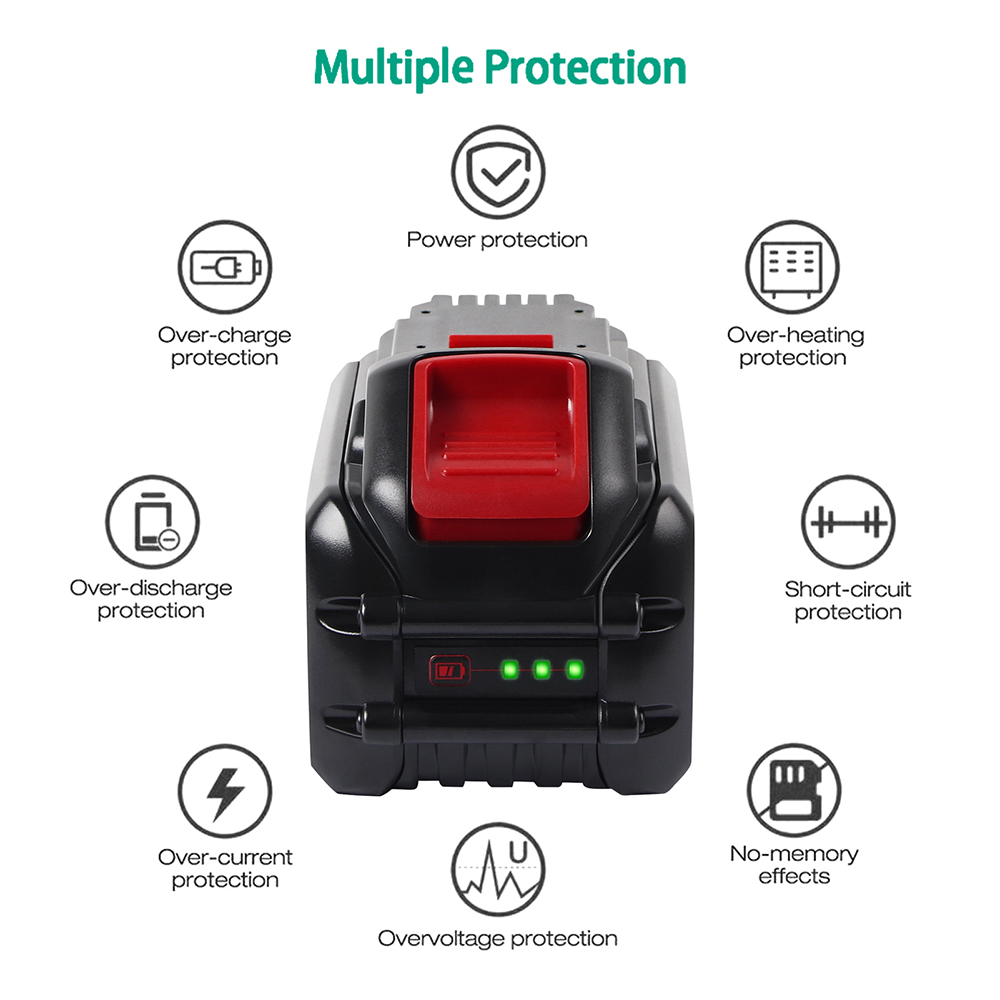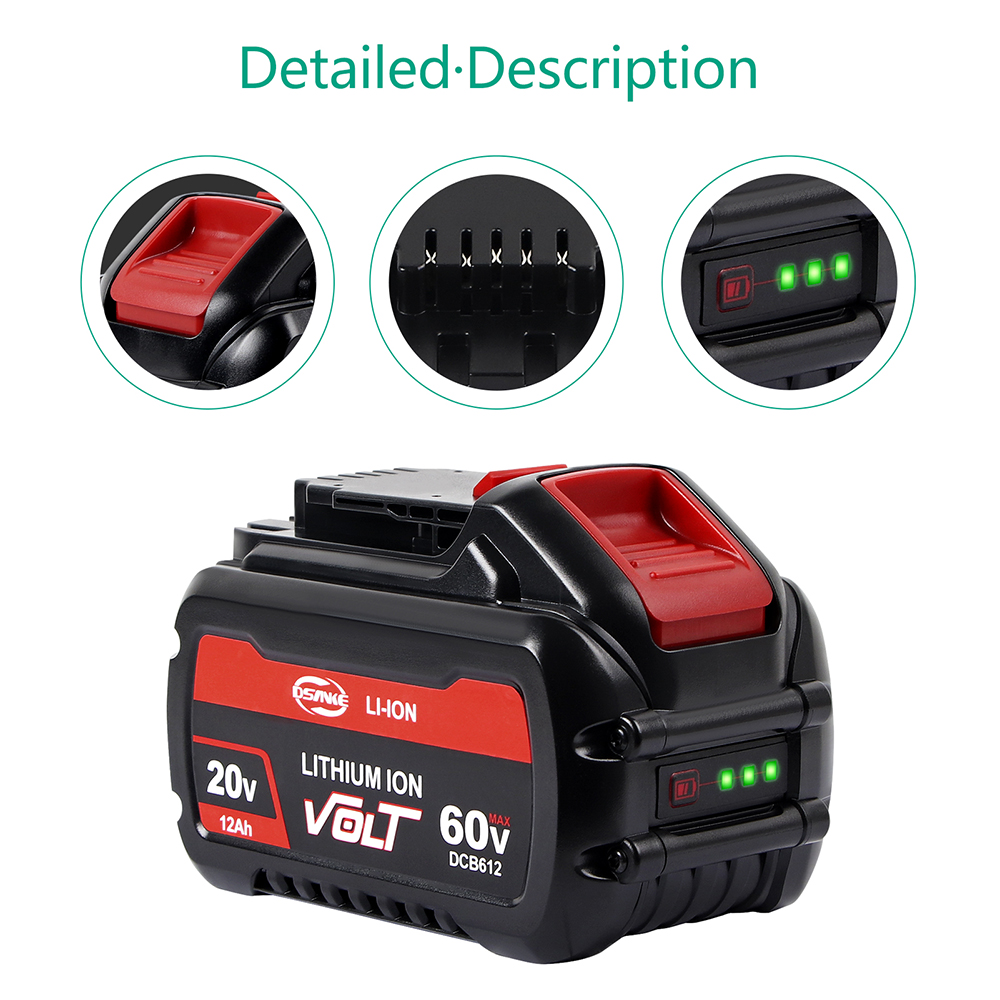 NEW FOR DEWALT DCB609-2 MAX Flex VOLT 12 Ah Lithium-ion 20V BATTERY DCB606-2
DSANKE® OFFICIAL
BUY 1, GET 1 AT EXTRA 10% OFF
Free Shipping on all orders*
Source Factory Manufacturer
60-Day Money-Back Guarantee
24 hrs Customer Service
Description
Stable Quality: DSANKE batteries are FCC, ROHS, CE certified, tested by manufacturer to match OEM products, 100% high quality guarantee 60 days money back and 5 Years Warranty, Any question, tell us, we will answer your question in 24 hours.


As a professional manufacturer of power tool batteries, chargers and adapters, we specialize in designing and manufacturing varieties of power tool batteries and chargers with high quality.


Please ensure the product that you are going to buy fits the brand, model and part number of your device.
Brand:
DSANKE
Type:
Li-ion
Model Number:
DCB609
Battery Voltage:
20V/60V
Color:
Black
Condition:
Replacement Battery, Brand New
Package:
carton
Warranty:
5 Years
Compatible Brand:
For Dewalt
Capacity:
12 Ah
Battery Type:
Li-ion
Compatible with:
Compatible with all Dewalt 20V MAX, 60V MAX and 120V MAX tools.
Fit for:
For Dewalt 20V battery:
N123283, N123282, DCB201-2, DCB200, DCB201, DCB203, DCB204, DCB205, DCB181-XJ, DCB181, DCB180
For Dewalt 60V battery:
DCB606 DCB612 DCB606-2 DCB609 DCB609-2 DCB204 DCB205 DCB206
What's Included:
1x DCB612 20V/60V MAX 12 Ah Li-ion Replace Battery for DeWalt
1x Manual
Battery Maintenance:
1.Give a full discharge and charge every month during storage time, try to charge after the battery runs out and allow the battery to cool for a few minutes.
2.If you don't plan on using the battery for a month or more, store it in a clean, dry, cool place away from heat and metal objects.
3.Lithium-ion batteries will self-discharge during storage. Remember to recharge the batteries before use.Please do not use the battery while charging, otherwise the battery will be damaged.
4.Charge battery - Please remove the battery from your tools when you are assembling parts, making adjustments, cleaning or when not being used for an extended time..
We only accept payments through PayPal.
An order begins processing once payment has cleared.

CANCEL / EXCHANGE
If you would like to cancel or change your order, please contact us if you HAVE NOT received a shipping confirmation.
If the order has not processed yet, the order will be cancelled, and you may place a new order.
If the item has been processed for shipping, we cannot cancel the order. You can return the order, and a refund will be issued once the item has been returned.
** We do not offer exchanges. All exchange requests will be handled as returns. Once the item is received at our warehouse, we will issue a refund. You may place a new order at your earliest convenience.
All products will be checked carefully and packed in good condition before shipping.
We offer FREE Standard shipping on all orders in the United States!
| | | | |
| --- | --- | --- | --- |
| Shipping Service | Delivery Time | Delivery Weight Range | Cost |
| USPS First Class | 3-5 days | <1lbs | Free |
| USPS Priority Mail | 1-3 days | 1lbs<*<20lbs | $19.99 |
| UPS_SurePost | 1-5 days | >1lbs | Free |
| UPS_Ground | 1-4 days | >1lbs | $9.99 |
**Your order will be dispatched within 1 business/working day of receiving payment (Monday-Friday).
Holiday Policy: Please note that During Holidays, we may extend our dispatch time to 2 business days due to the volume of orders, but please rest assured that we will be shipping out orders as soon as possible and update tracking as soon as it is available.
In the very unlikely event that your item is lost or damaged during post, then WE are responsible and will issue either a full refund or replacement.
NOTE:Once order shipped, we will not be able to intercept cancellations or change addresses.
Please ensure you provide us with the correct delivery address. Please note that we are not responsible for wrong or undeliverable address.Please ensure someone is available to sign the delivery to avoid delays.

We recommend you use eBay's shopping cart for multiple item orders. This way you'll be assured of getting the lowest possible delivery cost, you'll also able to see any delivery discounts before you pay.
DSANKE adheres to the terms and conditions of the United States Postal Service.
Our 60-Days Money Back Guarantee Warranty*
(Exchange or Refund) provides coverage for manufacturing defects and shipping damage only.
Photo or Video confirmation is required.(a bird's eye photo, and a close-up of the problem)
What is not covered by Warranty?
Normal wear and tear
Misuse, lack of care, mishandling, accidental abuse
Abnormal use of product
Damage caused by improper or unauthorized repair or maintenance
Product that has been modified or altered
Most defective orders are replaced free of charge or issue refund only after evidence confirmation is provided.
(This policy will not cover items that had been purchased from a different seller. Please contact the seller directly.)
Please leave your ebayID or order transaction number in the email, otherwise we cannot find your order information.
5 YEARS LIMITED WARRANTY*
LIMITED WARRANTY STATEMENT FOR DSANKE
If your order becomes defective due to faulty materials or workmanship within a period of 5 years from the date of purchase, we guarantee to do one of the following, though you may be required to pay shipping costs for return of the product to us and for shipment of the repaired/replaced product to you:
Replace or repair all defective parts, or,
Repair a defective unit, or,
Replace the unit with a new or reconditioned unit.
This Limited Warranty is subject to the following conditions:
Battery packs are guaranteed for a 12-month period only from the date of original purchase.
The item has not been misused, abused, neglected, altered, modified or repaired by anyone other.
Defect or damage to the battery has not resulted from use of accessories or tools that are inappropriate for normal operation of the battery , or that are not designed for use with your tool.
The item has been subjected to fair wear and tear.
The item has not been used for trade or professional purposes.
The item has not been used for rental purposes.
The item has not sustained damage through foreign objects, substances or accidents.
Your limited warranty does not cover:
Natural wear and tear caused by use in accordance with operating instructions.
Unauthorized/improper maintenance/handling or overload is excluded from this warranty as are accessories such as adapter, etc.
This limited warranty does not replace but is in addition to your statutory rights. This warranty does not apply to accessories supplied with the tool. This limited warranty applies only to the original purchaser and may not be transferred. All repairs and replacement will be covered by the limited warranty for the balance of the warranty period from the date of the original purchase.
Thank you for considering DSANKE & Power Garden products.